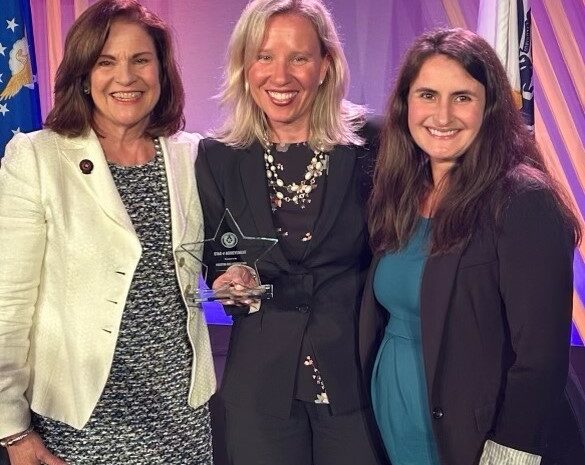 Several of Houston Volunteer Lawyers' dedicated pro bono rockstars received recognition for their achievements at the State Bar of Texas's annual meeting on June 22. In a ceremony held during the Bar Leaders Recognition Luncheon, awards were issued individually to Hillary Holmes of Gibson, Dunn & Crutcher LLP Careers and Julie Stanger of Chevron, as well as a firm-wide award to Gibson, Dunn & Crutcher LLP Careers.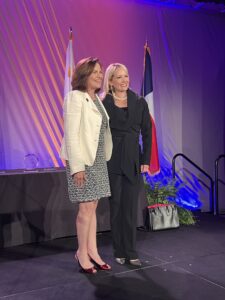 Current member of the Board of Directors of the Houston Bar Foundation and past member of the Board of Directors for HVL, Hillary Holmes was recognized for her service with the Frank J. Scurlock Award. Holmes was selected for her unwavering dedication to pro bono work in her individual capacity, personally representing clients in nearly a dozen cases during the 2022 calendar year, with issues ranging from complex divorces to tax to lengthy probate matters. Holmes' leadership at her firm helps promote the spirit of volunteerism among the young associates from the beginning of their careers, leading by example in her own volunteer work.
That example is part of what encouraged her firm, Gibson, Dunn & Crutcher LLP Careers, to accept 48 pro bono cases in 2022 alone. This year's W. Frank Newton Award recipient, Gibson Dunn has long been a leader in pro bono in our community, and stood out for its commitment to serving community members in crisis. Gibson Dunn took a variety of matters in 2022, including urgent divorce cases for domestic violence survivors, expunctions to help clear access for clients to housing and jobs, and 16 separate eviction cases, representing tenants in the Harris County Civil Courts at Law to prevent the loss of housing and avert homelessness.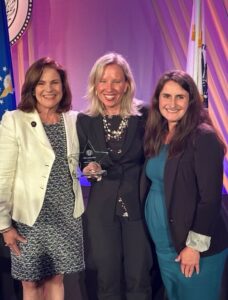 In recognition of the work that goes in to organizing a robust, firm-wide culture of pro bono, the State Bar honored Julie Stanger of Chevron with the Pro Bono Coordinator Award. In her work as the Pro Bono Coordinator in 2022 for the legal department at Chevron, Stanger made strides to promote strong relationship between corporate counsel and law firms, overseeing a project in cooperation with Foley & Lardner and Pillsbury that placed volunteer attorneys with 29 families referred from Texas Children's Hospital that need guardianships in place for their disabled children. In addition to the additional pro bono cases worked by her and her team, Stanger's advocacy for our community has been a key part in encouraging pro bono commitments from fellow corporate counsel in legal departments around Houston.
The Houston Bar Association also received recognition from the State Bar in it's annual meeting with the receipt of five State Bar of Texas Stars of Texas Bars Awards. In addition to awards for Human Interest Story, News Article, and Substantive Law Articles, the HBA received awards for it's President's Speaker Series and The Houston Lawyer newsletter with the Star of Achievement Award and the Best Overall Newsletter Award, respectively.
If you would like to get involved in pro bono, opportunities are available with HVL on our website and can be found at: Get Involved – Houston Volunteer Lawyers (makejusticehappen.org)
HVL is grateful to have the support and commitment of so many dedicated attorneys with a vested interest in serving the unmet legal needs of our community. Thank you to all the volunteers who were recognized for their service and to everyone who gives their time to make justice happen!