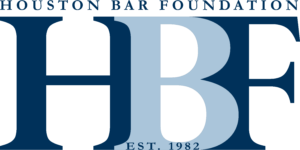 The Houston Bar Foundation presented its annual awards for pro bono service during the Houston Bar Foundation's Annual Meeting and Luncheon held at The Corinthian Houston on February 15, 2022.  Chevron, Hunton Andrews Kurth, Foley & Lardner LLP, Shortt & Nguyen P.C., Fran Watson, and Keri Brown were honored for their outstanding contributions to Houston Volunteer Lawyers in 2021.
Corporate Legal Department: Chevron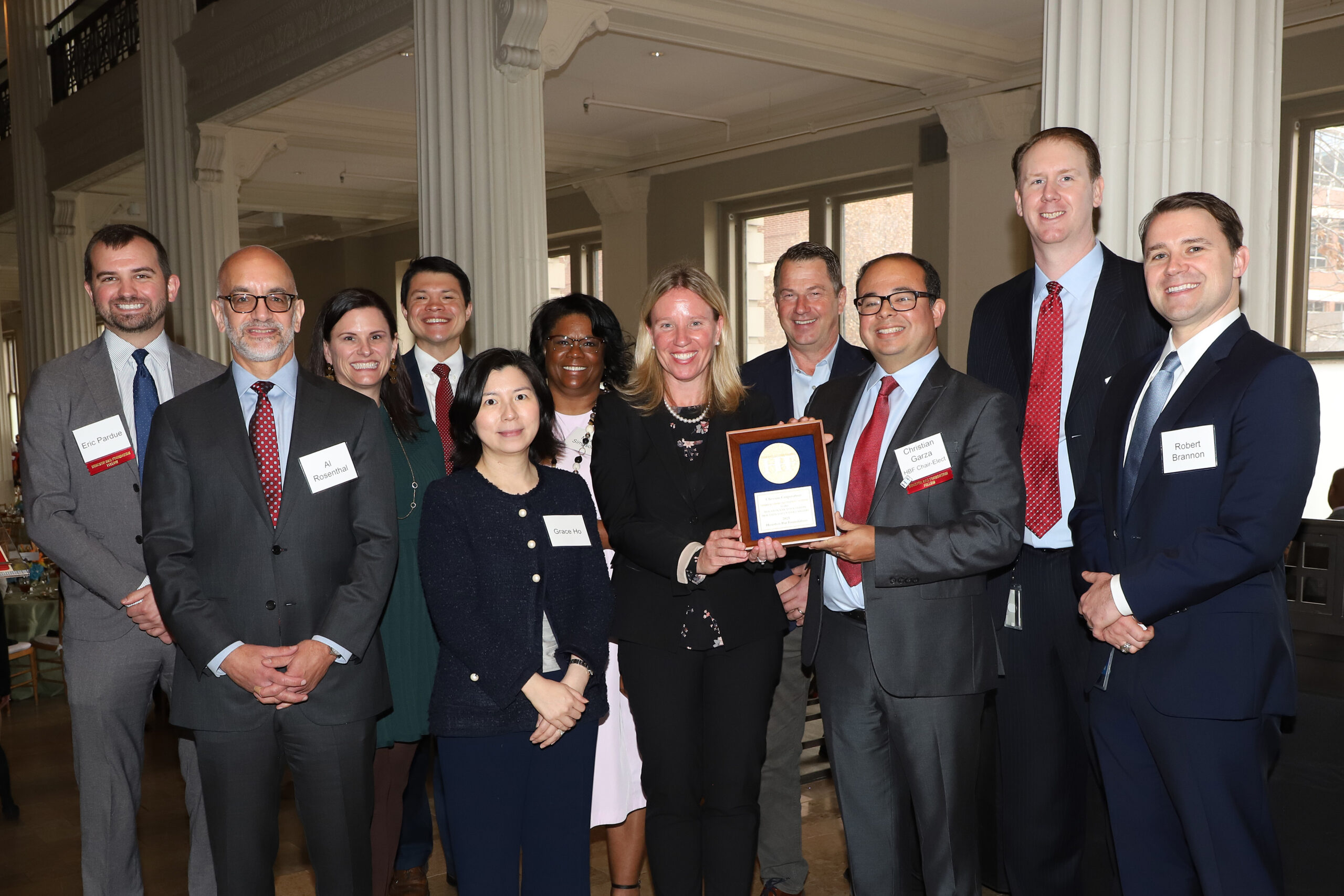 Chevron's legal department sets the standard for in-house pro bono service. In 2021 Chevron's attorneys demonstrated creativity by bringing in national resources and developing innovative partnerships to provide legal representation to dozens of low-income individuals living in the Houston area. Chevron's Pro Bono Coordinator, Julie Stanger, recruited attorneys nationally using the State Bar of Texas NOVA Program, and recruited 2 law firms and another corporate legal department to meet the needs of local families. This legal collaboration and effort ultimately provided legal assistance to 29 clients to meet the legal needs of families served by HVL' and Texas Children's Hospital Adult Guardianship Project.
Equally impressive, Chevron tapped outside counsel to provide legal assistance to 18 women through a partnership with Dress for Success, a non-profit that supports women returning to the workforce. Chevron remains a steadfast ally to Houston Volunteer Lawyers, creating innovative collaborations to meet the emerging legal needs of our community.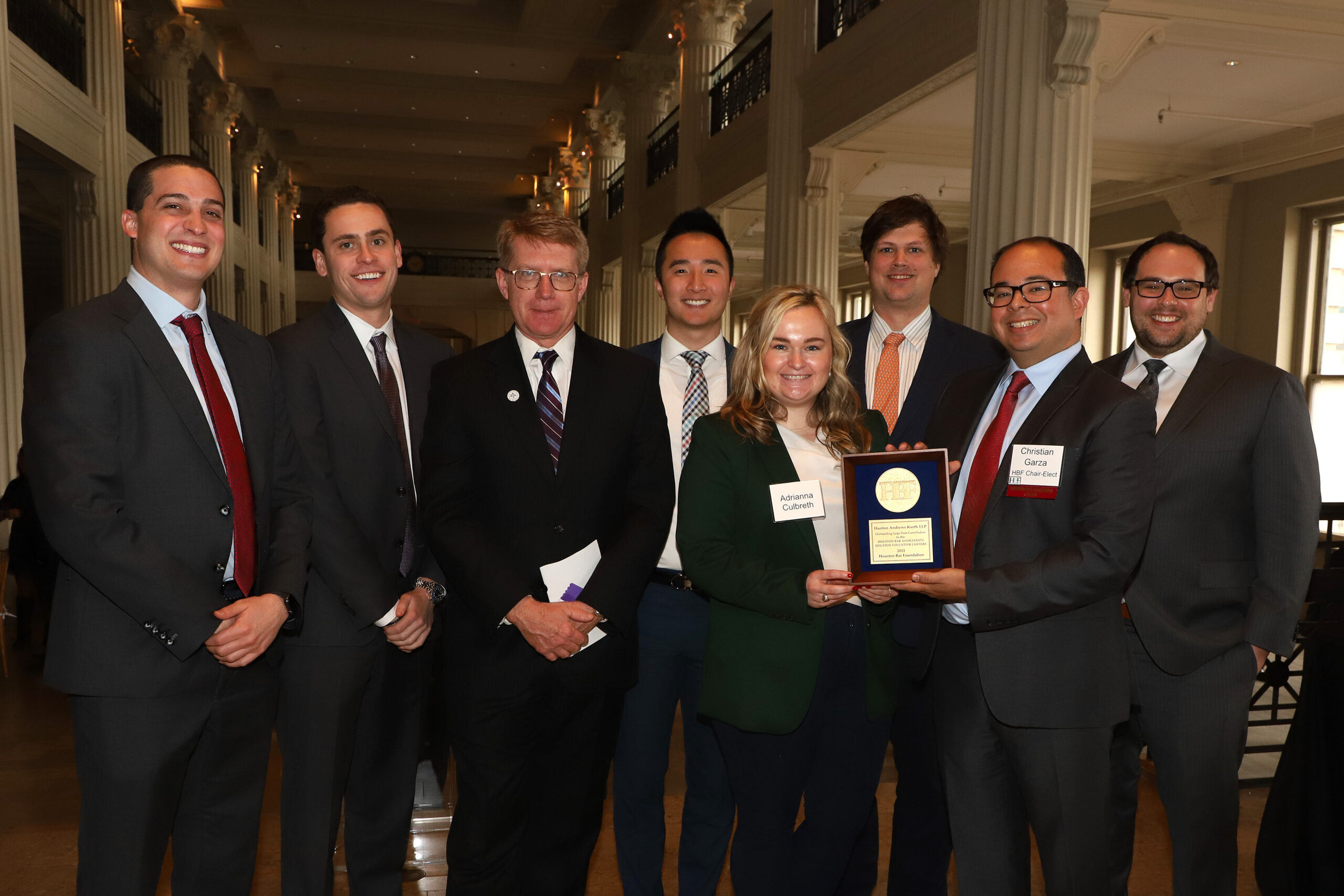 Large Firm: Hunton Andrews Kurth
Hunton Andrews Kurth LLP continues to demonstrate their dedication to pro bono service throughout the Greater Houston Area. 2021 saw the second year of an exciting two-year pro bono partnership with HVL. Placing a two-year Hunton Andrews Kurth Pro Bono Fellow, Henry Sturm, at HVL, Henry Strum was able to increase HVL capacity to provide pro bono legal services while also serving as a liaison between HVL and the firm. "Henry has become a valued asset to our staff, providing legal service to hundreds of community members while strengthening the long-standing pro bono relationship between HVL and the Houston office of Hunton Andrews Kurth," stated Anne Chandler, Executive Director of HVL.
Hunton Andrews Kurth attorneys answered the call to commit to weekly representation of tenants facing evictions as a part of the innovative Eviction Defense Attorney Project with the Harris County Courts at Law. With the increasing number of individuals and families facing eviction due to the COVID pandemic, Hunton Andrews Kurth frequently provides two attorneys per week to represent tenants facing and appealing their evictions.
Additionally, attorneys at Hunton Andrews Kurth donated their time to provide extended legal representation to more than 40 families through Houston Volunteer Lawyers on a variety of legal issues including guardianship matters, custody matters, divorces and other family law matters. Hunton Andrews Kurth attorneys are regular volunteers providing legal advice and counsel during HVL's Friday Legal Advice Clinics.
Hunton Andrews Kurth is truly a remarkable example of how a large firm can make a positive difference in the lives of vulnerable families and help to bring equal justice for all Houstonians through their pro bono efforts.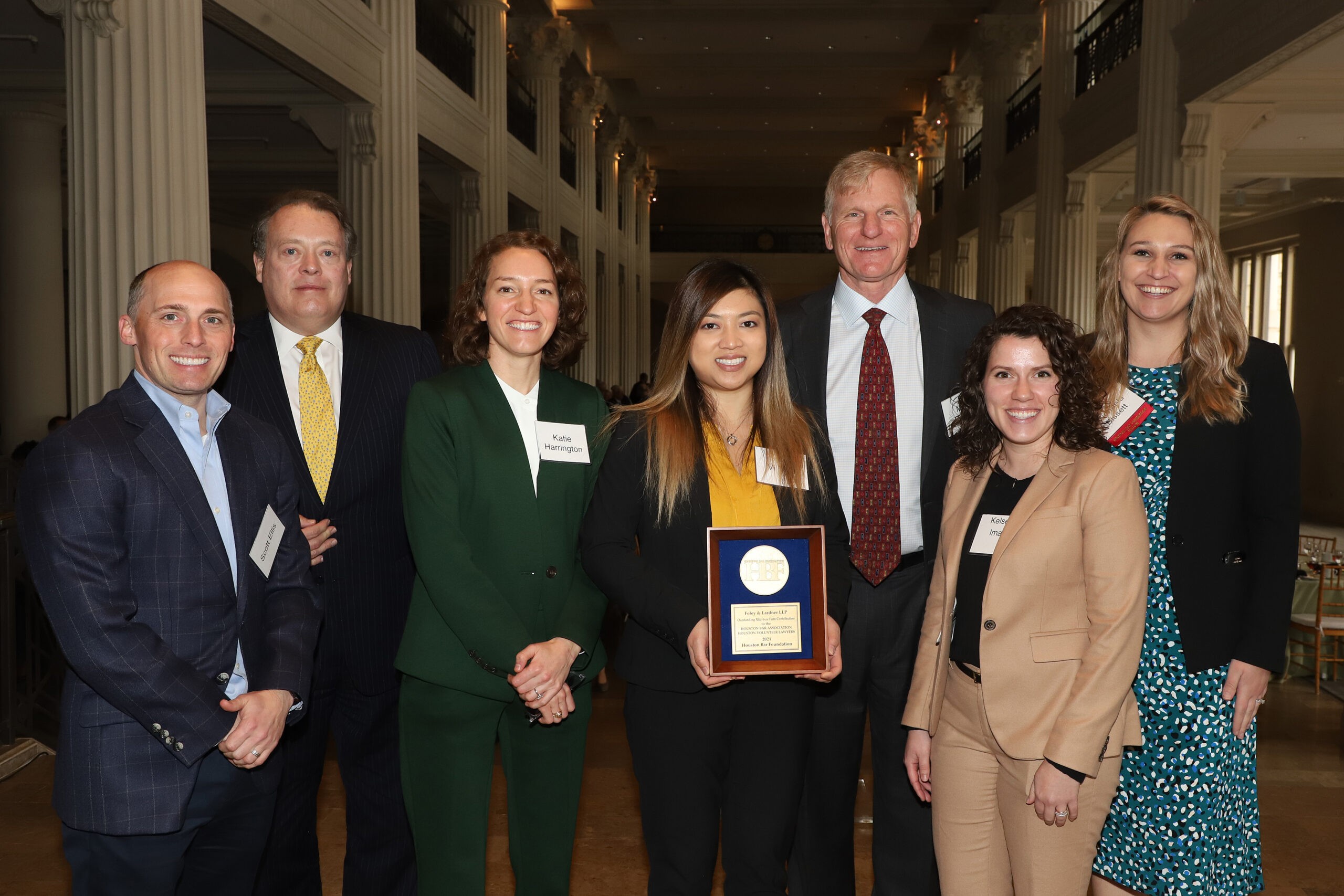 Midsize Firm: Foley & Lardner LLP
Foley & Lardner LLP epitomizes all that a midsize firm can do to help clients access justice, especially during the unusual circumstances of this pandemic. During the last two years, Foley & Lardner LLP lead by example, representing more of HVL' clients than any other midsize firm. In 2021 alone, attorneys at Foley & Lardner brought peace of mind to more than 30 families who were facing uncertain futures. In the fall of 2021, HVL Board Member and Partner at Foley & Lardner Audrey Momanaee, recruited new associates at the firm to work with their in-house attorneys of a corporate legal department to further HVL's innovative "Wipe Out the Waitlist" Campaign. By representing dozens of clients in the areas of family law, criminal expungement, guardianship and probate matters, attorneys at Foley & Lardner LLP moved justice forward.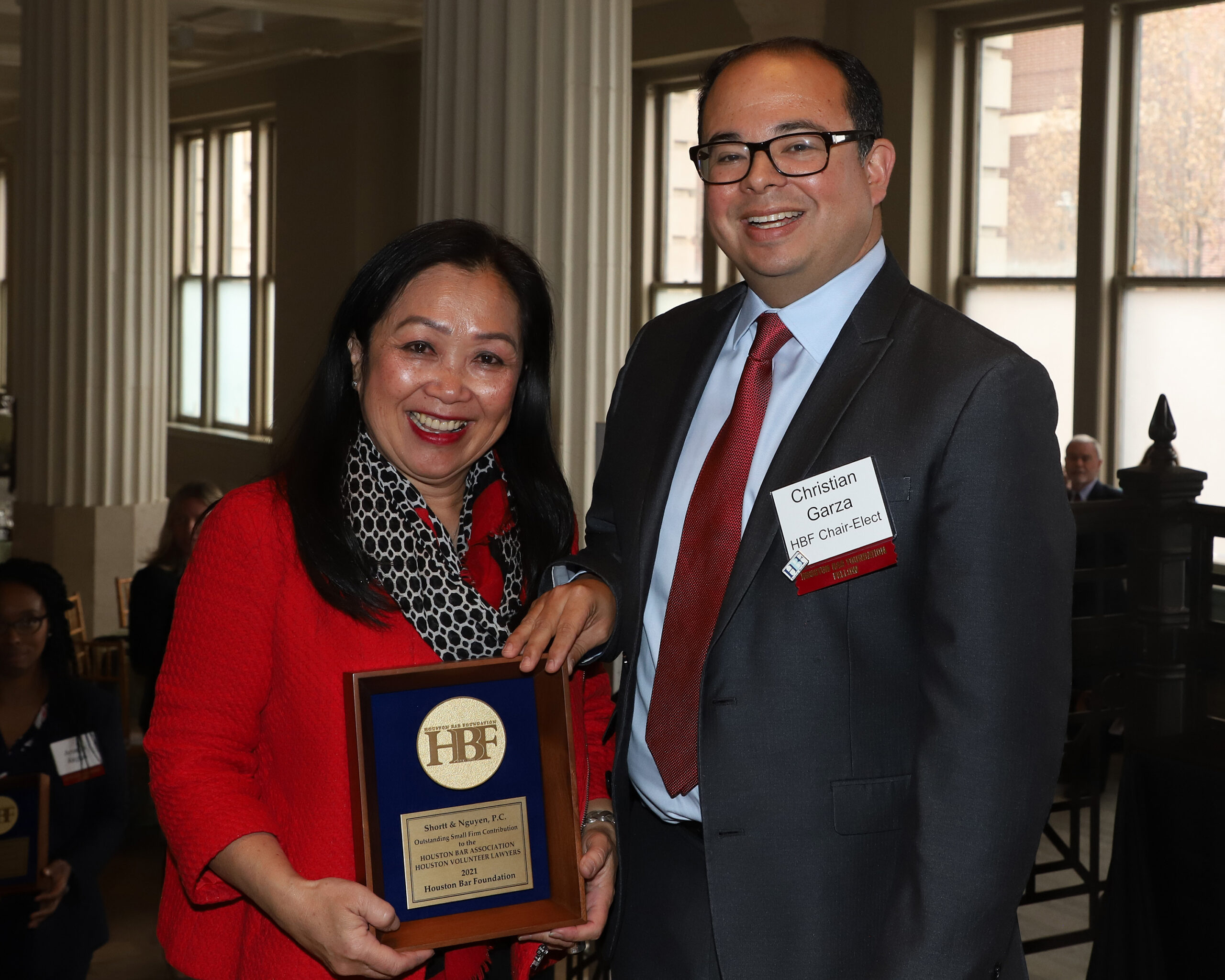 Small Firm: Shortt & Nguyen P.C.
Shortt & Nguyen is recognized for their ongoing commitment to Houston Volunteer Lawyers and its clients. Ms. Nguyen, a long serving HVL Board Member, not only spends her personal time in serving HVL, spreads her enthusiasm across the firm. Attorneys at Shortt & Nguyen donated many hours representing pro bono clients while also sharing their expertise in family law by mentoring attorneys who were new at handling family law pro bono matters. Shortt & Nguyen encourage all individuals in their firm to lend a hand. The support staff volunteer their time to serve as interpreters to Vietnamese speaking clients. It is not unusual for HVL to receive a call from the staff at Shortt & Nguyen asking what their team can do to give back to the community.
Solo: Fran Watson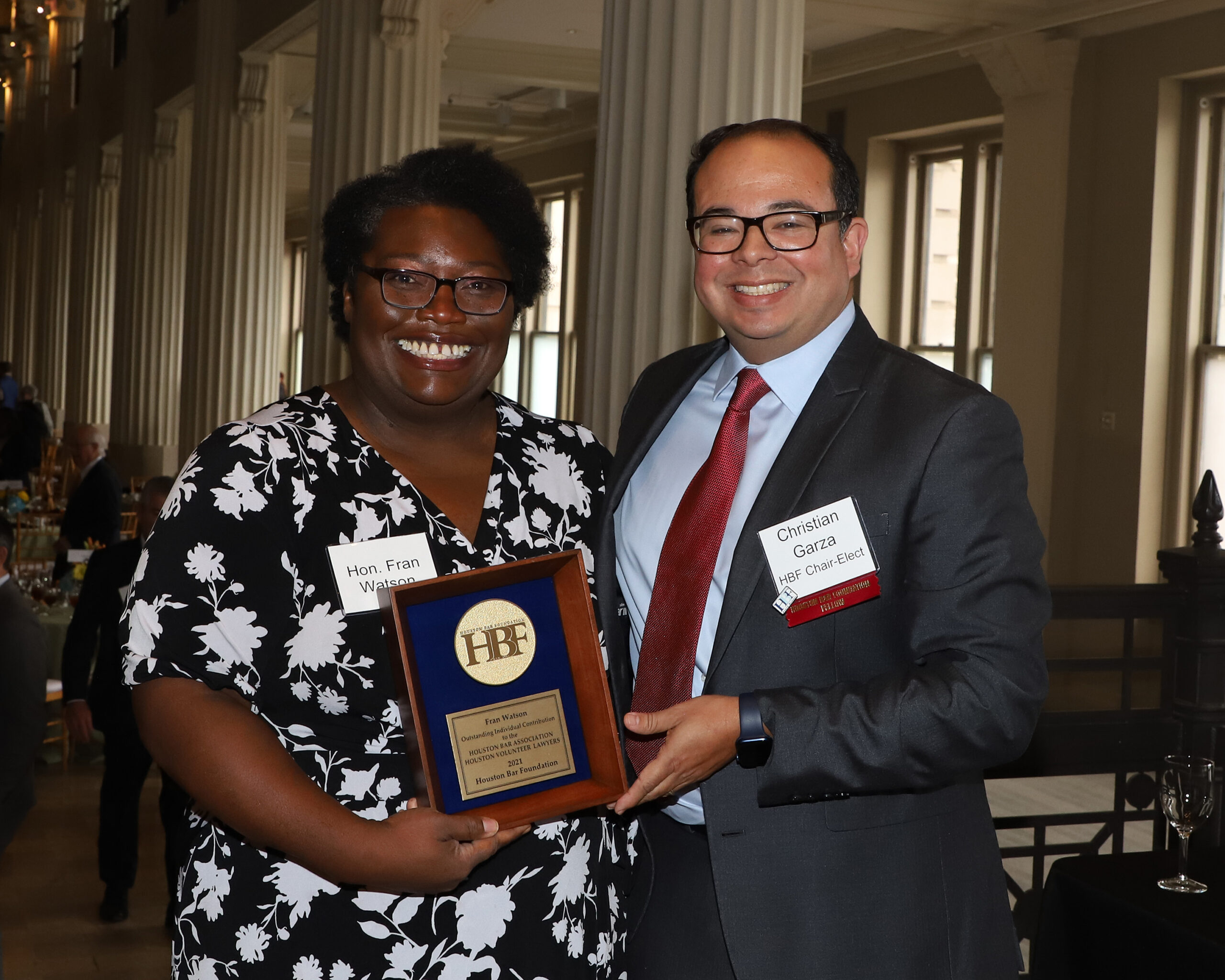 Fran Watson, a solo practitioner, and Associate Municipal Court Judge of the City of Houston, finds time share her expertise and time to help HVL meet its mission of providing equal justice to all. In 2021, Ms. Watson represented 8 pro bono clients with complex guardianship, family, and estate planning matters. In addition, Ms. Watson volunteered to provide legal assistance and information to clients during drive-thru COVID-19 Legal Clinics and is frequently a supportive voice advising clients during HVL Friday's Legal Advice Clinics. HVL is in awe of how much this solo practitioner is able to do to move justice forward.
Pro Bono Coordinator: Keri Brown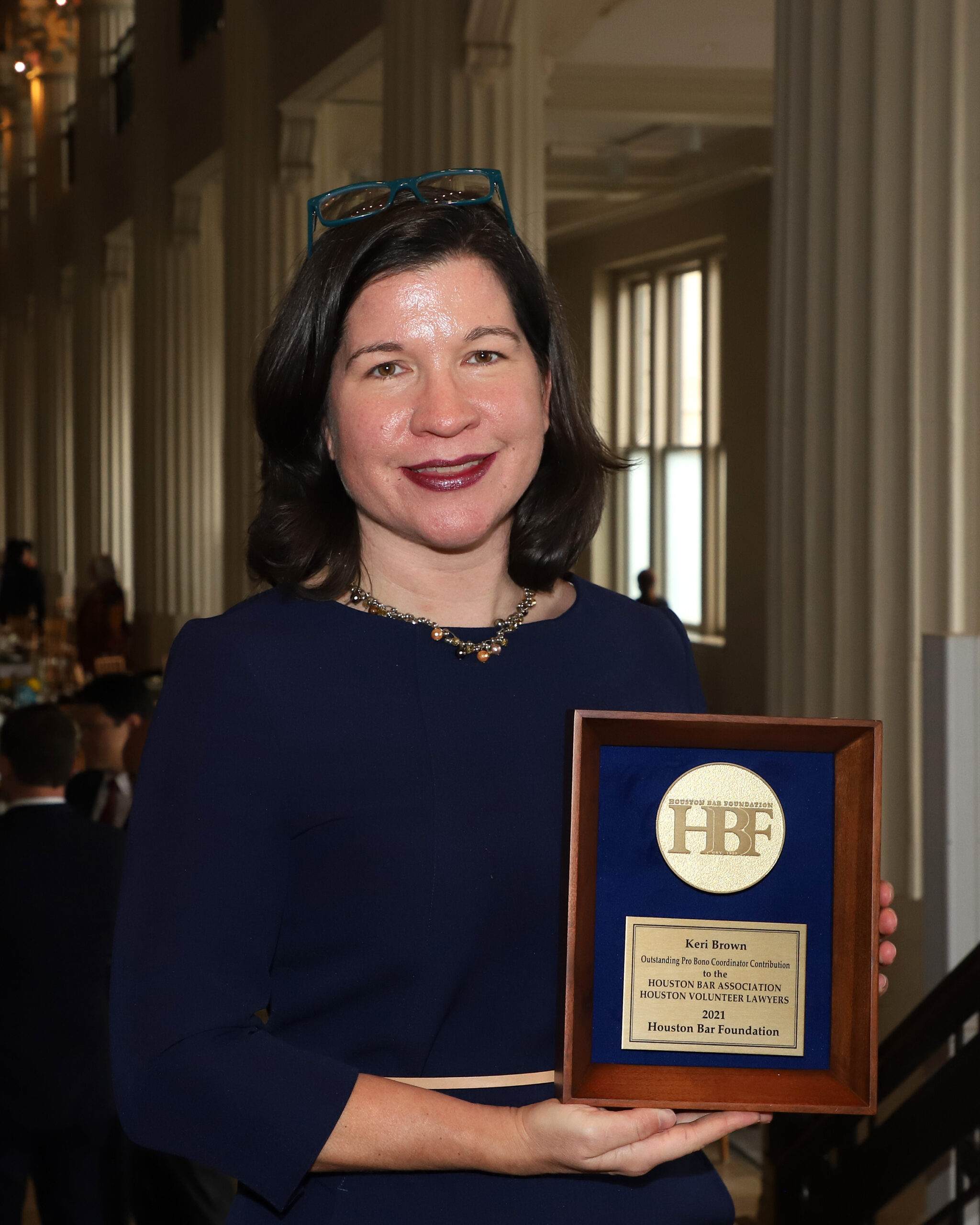 Keri Brown, Baker Botts firmwide Partner-In-Charge of Corporate Social Responsibility is a nationwide, statewide, and local leaders. Ms. Brown has been a zealous advocate for pro bono service for many years. In addition to her leadership role within Baker Botts, Ms. Brown serves as the Chair of the Board of Directors for Houston Volunteer Lawyers and the Pro Bono Workgroup of the State Bar of Texas. At the start of the pandemic, Ms. Brown coordinated the efforts of 60 lawyers at her firm to create a COVID-19 Community Resource Guide that was used by non-profit organizations across the nation. The Guide is a resource to help clients access information on subjects such as utility assistance, Medicaid, taxes, fraud/price gouging, shelter-in-place rules, student loans, mental health – and dozens of other subjects.
In the fall of 2021 in her capacity as HVL' Board Chair, Ms. Brown launched the inaugural "Wipe Out the Waitlist" Campaign. With her leadership, HVL and its pro bono attorneys were successful in clearing out HVL' client waitlist. With Ms. Brown's encouragement Baker Botts lead the way and kicked-off the Campaign by accepting15 cases on HVL waitlist, motivating many pro bono coordinators and HVL Board members to step-up and engage in pro bono work. As a result over 200 individuals found pro bono counsel during the successful "Wipe Out the Waitlist" Campaign, an unprecedented feat.
Ms. Brown's enthusiasm, leadership, and creativity are a driving force in helping families access justice.