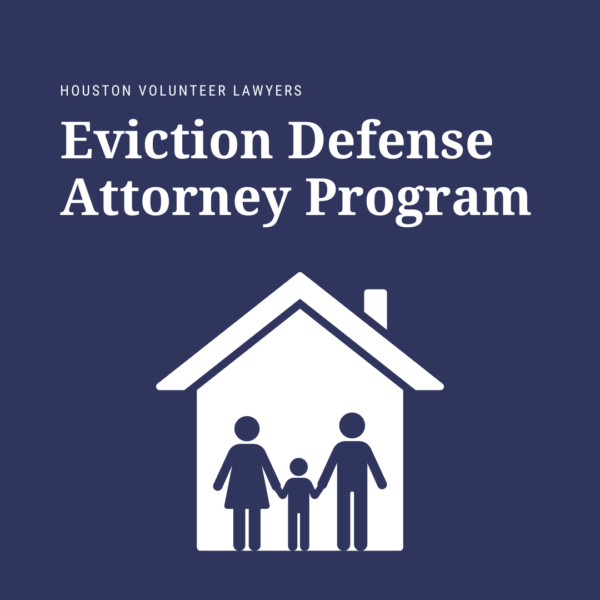 Since the beginning of the pandemic, thousands of Houstonians have faced eviction. Two years in, many of us feel like the worst is behind us and the need for volunteer attorneys should be lessening. The dockets in the Harris County Civil Courts at Law tell a different story. Houston Volunteer Lawyers is experiencing an increase each month in the number of clients seeking legal assistance with evictions and evictions appeals.
To keep tenants housed, Houston Volunteer Lawyers is partnering with the Harris County Civil Courts at Law to provide pro bono legal assistance to all eligible clients who appeal their evictions in one of the four Courts. HVL thanks the following law firms who stepped up to support tenants in their eviction appeals: Vinson & Elkins, Locke Lord, Norton, Rose and Fulbright, Gibson Dunn, Blank Rome, Arnold & Porter, Baker Botts, Hunton Andrews Kurth, Morgan Lewis, O'Melveny, Reed Smith, and Willkie Farr & Gallagher.
Unfortunately, this is not the end of the eviction crisis. Dozens of tenants still need legal assistance every week. Many tenants found short term relief through the rental assistance funds that were available. That money is almost depleted. However, rent is due each month even as hundreds of tenants are still burdened by huge debt.
Tenants, landlords, and attorneys are weary. Houston Volunteer Lawyers and dozens of tenants each week are asking you to dig deep and find your second wind. The finish line for these neighbors in need is not yet in sight.
Does having a legal advocate make a difference? Let the outcomes of Sara's and Sam's stories answer that question.
Sam lost his job during the pandemic. He got behind on his rent. Sam was approved for rental assistance and his landlord agreed to participate in the rental assistance program. The landlord received rent for Sam through April 2022. Why then was Sam in court for an eviction hearing in January 2022? Sam came to HVL for help. Thanks to a pro bono attorney and the HVL staff attorney advocating for Sam, the landlord's attorney non-suited and the case was dismissed. Sam was allowed to stay in his apartment through the duration of the paid-up rent. He had time to plan his move and take charge of his circumstances.
Sara had her work hours cut way back during the pandemic. She was unable to pay full rent every month so late fees accumulated. Her landlord began eviction proceedings. Sara didn't know what to do so she moved out. Sara did not show up at her eviction trial and now has an eviction on her record. Her bad rental history is affecting every application she makes for housing. If she finds a landlord who will rent to her, it will be at a premium. Sara is a couch surfing between family and friends because renting a new place is unaffordable. Sara is stuck and doesn't know how to move forward.
The point at which a pro bono attorney entered the story (or not) was the turning point for these two tenants. Sara was overwhelmed, frightened and did not know where to go for help. Sam, however, had a pro bono attorney at his side. In the proceedings, the advocacy provided to Sam leveled the playing field. Both still had to move. Sara moved from a place of great uncertainty for her future. Sam moved with dignity and a feeling of control over his situation.
The number of clients needing legal assistance with an appeal of their evictions is growing weekly. This race is not done. Tenants need an advocate; someone to be on their side and help them navigate the legal process.
Won't you volunteer to help? It's all virtual and the defense strategies are clearly outlined. HVL will provide training materials, case summaries and documents, as well as motion templates to get you up to speed right away. The time commitment is approximately 3-6 hours per case including your appearance (unless the case is reset or abated which may require additional appearances). Email probono@hvlp.org now and you can be helping Sara or Sam next week.