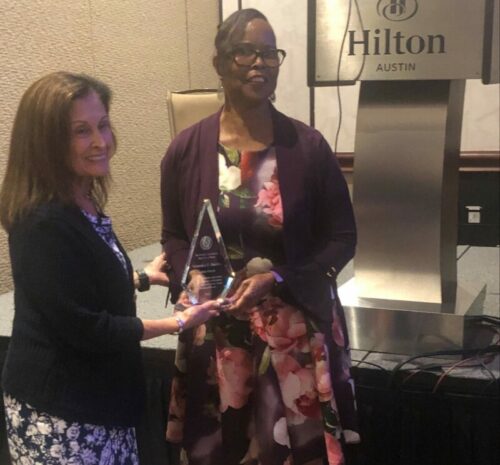 We are thrilled to announce that Veronica Jacobs was awarded the 2023 Noble Lifetime Achievement Award in Poverty Law. The Poverty Law Section of the State Bar of Texas presented the award to Veronica on August 30 during the Section's annual meeting in Austin.
The Noble Award honors a Texas attorney for a lifetime of public service in promoting poverty law as a noble profession and significant lifetime professional accomplishments in expanding the provision of high-quality legal services to people of modest means or protecting clients' legal rights.
After making a mid-life career change, Veronica graduated from South Texas College of Law in 1994 and immediately joined the staff of Houston Volunteer Lawyers.  She spent her entire legal career working to help the most vulnerable in our community with their legal needs.  Beginning as a staff attorney in 1994, Veronica rose through the organization to the position of Director of Advocacy and Community Services at the time of her retirement in 2021.  To recognize Veronica's outstanding commitment to providing free legal assistance to thousands of Houstonians during her career, Mayor Sylvester Turner declared May 24, 2021, as Veronica Jacobs Day.
During her 27-year career at Houston Volunteer Lawyers, Veronica showed true compassion and always went the extra mile for each client.  She was known for sending birthday cards, sympathy notes, and staying in touch with her clients.  Children of fellow Houston Volunteer Lawyers staff were also on the receiving end of cards and felt a special connection to "the lady at Mom's or Dad's workplace who sends me a birthday card in the mail!".  Every client had Veronica's direct contact information and often reached out to her when they needed to update or make changes to their will.  Retirement hasn't stopped Veronica from continuing to help former and current clients.
Once she retired from Houston Volunteer Lawyers, Veronica immediately stepped into the role of pro bono attorney.  Veronica has a special passion for helping clients with estate planning with a specific focus on maintaining generational wealth in low-income communities.  Throughout her career, Veronica has recognized the barriers that clients face when accessing services and has gone out of her way to facilitate meeting with clients. More than once, she helped a dying client complete their end-of-life documents days before their death, giving peace of mind that their last wishes had been expressed.
Veronica also is an excellent mentor to other attorneys as they work with clients on more complicated estate planning cases.  She provided training for groups of pro bono attorneys participating in Houston Volunteer Lawyers' annual Will-a-Thon.  During COVID, the mass gathering of clients and attorneys for the Will-A-Thon had to be put on hold.  When it was reintroduced in 2022, Veronica was there to train a new cadre of volunteer attorneys. Thanks to her expertise and mentorship, 64 wills were completed during the 2022 Will-a-Thon.
Veronica remains engaged in the legal profession by serving on the Houston Bar Association's Elder Law Committee.  She received the State Bar of Texas "Boots on the Ground" award in February 2022.  She continues to serve as a dependable volunteer providing pro bono legal assistance to clients through Houston Volunteer Lawyers.
Veronica Jacobs has dedicated her life to public service and stands as an example of promoting poverty law as a noble profession.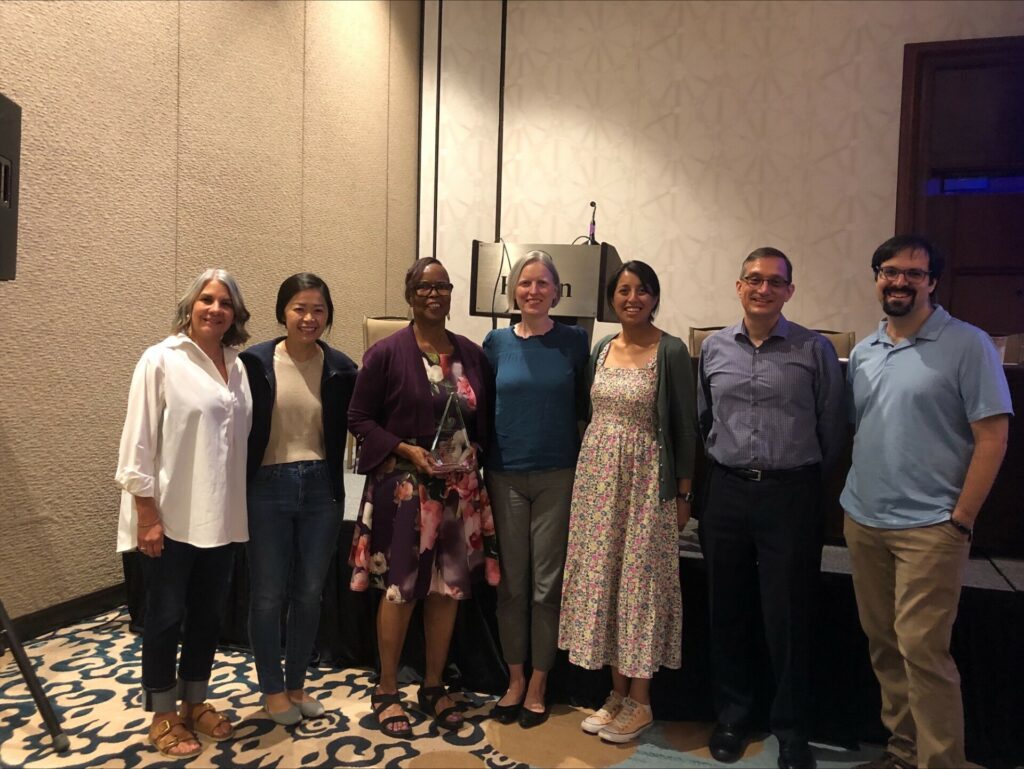 Veronica is pictured with current and former attorneys with Houston Volunteer Lawyers.