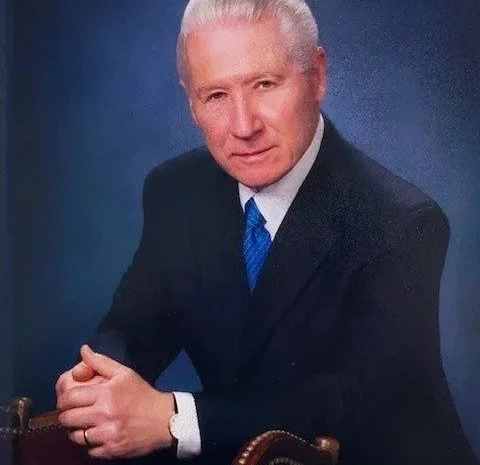 Houston Volunteer Lawyers mourns the loss of our founder James B. Sales who passed away on February 11, 2023.
The following obituary was republished from Dignity Memorial.
James B. Sales grew up in Weimar, Texas in the 1930's, 40's and 50's. In Weimar, Jim served as an altar boy at St. Michael's Catholic Church, worked agricultural, construction and mechanical jobs, and played every sport at Weimar High School, where he finished Valedictorian of his class. Despite a humble but loving upbringing, Jim attended the University of Texas by cobbling together academic and ROTC scholarships and by working throughout school. He was the first member of his family to attend college. At 5'8" tall and 155lbs, he played football on the Longhorn freshman football team until a knee injury ended his soon to be anyway short college football career. Jim graduated UT in 1955, married his high school sweetheart and love of his life Beuna Mae Vornsand, and then served two years as a Lieutenant in the United States Marine Corp.
Following Marine Corp service, Jim attended the University of Texas Law School where he graduated with honors in 1960. He then joined Fulbright, Crooker, Freeman and Jaworski, where he was trained as a trial lawyer under legendary trial lawyers Leon Jaworski and Kraft Eidman. Jim became a partner at Fulbright & Jaworski in 1971, and he served as head of the firm's litigation department from 1982 until 2000. He served as of counsel at Norton Rose Fulbright for the next 22 plus years of his life. Jim viewed all of his colleagues at his life-long law firm as his brothers and sisters.
During his legal career, Jim became recognized as one of the preeminent trial lawyers in America. He tried many of the cutting-edge product liability cases, many for GM, which set the contours of product liability law in Texas and nationally for decades. Jim authored one of the seminal text books on product liability, and he taught Continuing Legal Education courses and law school classes throughout the country. Jim also was hired to work on the appeal of the Pennzoil v. Texaco case. Like several other legendary Texas trial lawyers of his generation who learned discipline, tenacity, and guts in the Marine Corp. – Joe Jamail, Dick Miller, and Joe Reynolds to name a few – Jim is identified as one of the One Hundred Legal Legends in Texas. Jim was recognized as a Fellow of both the American College of Trial Lawyers and the International Academy of Trial Lawyers. UT Law School and his Fulbright & Jaworski Partners dedicated a teaching courtroom at the law school in his honor.
Jim was a passionate leader of the Bar, pro bono service, and professionalism. While serving in nearly every leadership capacity possible – President of the Houston Bar Association, President of the State Bar of Texas, Chair of the Texas Access to Justice Commission, Delegate of the American Bar Association House of Delegates, and many others, he also initiated and founded the Houston Volunteer Lawyer Program, the Houston Bar Foundation (and served as its first Chair), the Texas Lawyers' Assistance Program, and other programs designed to aid citizens and lawyers in need of help.
In recognition for his selfless dedication to the profession and to those in need, Jim received the Appleseed J. Chrys Dougherty Good Apple Award, the Texas Bar Foundation Outstanding Fifty Year Lawyer Award, the American College of Trial Lawyers' Samuel E. Gates Litigation Award, the Anti-Defamation League Karen Susman Jurisprudence Award for Legal Public Service, the University of Texas Law School Distinguished Lifetime Achievement Award, the Emily Jones Lifetime Achievement Award and countless other honors. The Houston Bar Association Pro Bono Leadership Award is named in his honor, and he coined the motto for Texas Access to Justice in Texas – "we need more boots on the ground," in the fight to provide low income Texans access to legal representation.
And despite all his professional accomplishments, his passion ultimately rested firmly with his family. He loved Beuna with all his soul and shared everything in life with her for over 66 years of marriage. He cherished his three children Mark, Debbie, and Travis, their spouses, his grandchildren and his great grandchildren. And in accord with the old adage that "imitation is the sincerest form of flattery," Jim and Beuna's three children and one of his grandchildren are all lawyers.
Jim is preceded in death by his parents Henry and Agnes Salas and his sister Mary Ann Salas. Jim is survived by his wife, Buena Mae Sales; son Mark Sales and his wife Nancy; daughter Debbie Sales Elmore, her husband Phil and their daughters Laura Elmore and Kristin Elmore; son Travis Sales and his wife Sandy; grandchildren Alexandra Sales, Marshall Sales, Harrison Sales and his wife Katie, Katie Sales Kirbo and her husband Brad; Emily Sales Marmillion and her husband Brian, and James Austin Sales; and great grandchildren George Travis Kirbo and Reese Elizabeth Kirbo. He is also survived by his brother Frank Sales and his wife Bonnie, and his sister-in-law Doris Brown.
Visitation for Jim will be held on Monday, February 20, 2023 from 5:00PM to 8:00PM at Memorial Oaks Funeral Home, 13001 Katy Freeway, Houston, Texas 77079. A Mass funeral service will be held on Tuesday, February 21, 2023 at 10:30AM at St. John Vianney Catholic Church, 625 Nottingham Oaks Trail, Houston, Texas 77079. Father Leon Streider will officiate the service. Following the funeral service, Jim will be interred to eternal rest at Memorial Oaks Cemetery. A reception to celebrate Jim's amazing life will follow at 12:30PM at the Houston Racquet Club, 10709 Memorial Drive, Houston, Texas 77024. Marshall Sales, Harrison Sales, James Sales, Brad Kirbo, Brian Marmillion and Doug Leach will serve as pallbearers. Honorary pallbearers will be all former and current partners of Fulbright & Jaworski (now Norton Rose Fulbright), the current and former Presidents of the State Bar of Texas, the current and former Presidents of the Houston Bar Association, and the Texas Fellows of the American College of Trial Lawyers.
In lieu of flowers, those wishing to recognize and celebrate the life of James B. Sales can make donations to the Texas Access to Justice Foundation, the Houston Bar Foundation (which Jim helped establish), or the Wounded Warrior Project.
One of Jim's favorite and often used quotes came from Winston Churchill: "we make a living by what we get; we make a life by what we give." By that standard, what a life Jim Sales lived.
Fond memories and expressions of sympathy may be shared at www.memorialoaksfunerals.com for the Sales family.