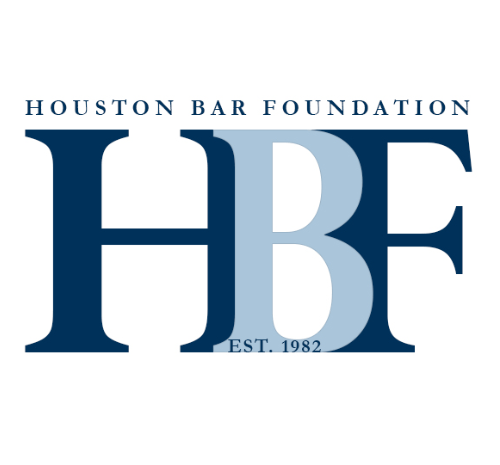 The Houston Bar Foundation (HBF) recognized recipients of the Harris County Bench Bar Pro Bono Awards during the Foundation's Annual Luncheon of February 9 in downtown Houston. The following law firms were recognized for their pro bono contributions to Houston Volunteer Lawyers and their clients.
Corporate Law Department – LyondellBasell
To inspire a culture of pro bono within LyondellBasell Legal Department, LyondellBasell hosted a pro bono training followed by a networking happy hour. In addition to building camaraderie between LYB and HVL staff, the training and happy hour resulted in eight LyondellBasell pro bono attorneys representing 13 HVL clients in 2022. LyondellBasell also sponsored a Friday Legal Advice Line, donating 56 hours as their attorneys gave advice and counsel to dozens of clients.  With a special interest in support thing hundreds of veterans who come to HVL for legal assistance, LyondellBasell assisted vets and other clients with record sealing and expungement through their Diversity, Equity, and Inclusion team. The important work clears the path so veterans can seek housing, jobs, and get on with their lives.
Large Law Firm – Baker Botts
An Equal Access to Justice Champion since 2007, attorneys at Baker Botts consistently represent 100+ cases each year. Baker Botts attorneys worked on 143 client matters in 2022, taking 64 new cases during the year, 36 of which were tenants appealing their eviction judgement sin the Harris County Civil Courts at Law. Working with their corporate partner, Shell, Baker Botts attorneys supported the Medical Legal Partnership between HVL and Texas Children's Hospital handling guardianship cases for 11 families in need. Baker Botts attorneys also consistently devote numerous hours to providing advice and counsel to clients through Friday Legal Advice Line.
Midsize Law Firm: Beck | Redden
Beck Redden has volunteered with HVL since it was founded in the early 90s, solidifying their commitment to providing pro bono work by becoming an Equal Access to Justice Champion in 2007. Beck Redden attorneys have handled more than 200 cases, including litigation matters (divorce and evictions) in 2022. In addition to working with HVL's clients, Beck Redden attorney, Jackie Furlow is completing her third year as a member of the Board of Directors of HVL. Beck Redden attorneys have taken cases in a variety of legal matters and most recently has supported the Medical Legal Partnership between HVL and Texas Children's Hospital by providing legal assistance with critical guardianship cases for families whose children turn 18 and need continued parental/guardian care.
Small Firm: Martin RG Marasigan Law Office
Attorneys at the Martin RG Marasigan Law Office have been volunteering for more than 10 years and made the commitment to become an Equal Access to Justice Champion in 2007.  Family law cases are the most frequent type of cases that HVL has and often the hardest to place with pro bono attorneys.  That is not the case with Martin RG Marasigan Law Office.  In the last 10 years, they have handled 54 divorce cases helping families in need to be ready to move forward with their lives.  And, speaking of heart, Martin Marasigan volunteered to provide advice during a Friday Legal Advice line clinic last August and extended that commitment by agreeing to represent two of the clients he spoke to with their divorce matters.   
The Houston Bar Foundation is the charitable arm of the Houston Bar Association. The Foundation supports programs that help provide legal representation to the indigent, promote community understanding of our legal system, and foster the administration of justice.