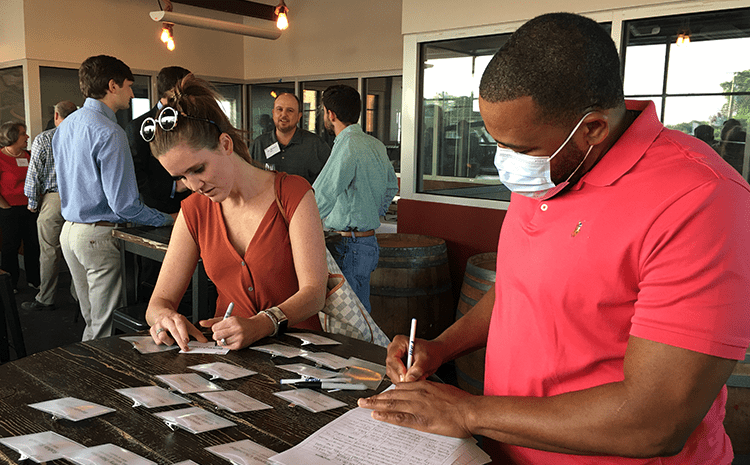 The ABA Military and Veterans Legal Center earlier this year awarded a total of $100,000 in grants to three nonprofit organizations that deliver legal services to veterans in Texas.
The San Antonio Legal Services Association, Metroplex Military Charitable Trust and Houston Volunteer Lawyers received ABA Veterans Legal Assistance Grants, which were established in 2020. The grants are intended for programs that provide direct outreach and legal services to underserved veterans, collaborate with other legal services providers or create and improve referral databases. Each year, as many as three organizations can receive ABA Veterans Legal Assistance Grants ranging from $5,000 to $40,000.
"The ABA is strengthening pro bono opportunities for our veterans and their families," ABA President Reginald Turner said in a statement provided to the ABA Journal. "With these grants, nonprofit legal programs are able to build their efforts and services to further meet the legal needs of underserved veterans within their state and local communities."
The ABA received funding for the grant program from an anonymous donor because of efforts by past ABA President Linda Klein, who created the Veterans Legal Services Initiative. As part of its work, the Veterans Legal Services Commission produced educational programming, proposed ABA policy and developed key partnerships with outside entities from 2016 to 2018.
San Antonio Legal Services Association is expanding access to benefits
The San Antonio Legal Services Association received a $40,000 grant to help more veterans obtain the benefits they are entitled to after serving in the military.
SALSA provides limited counsel to veterans on civil legal issues, including wills, landlord/tenant disputes and military discharge upgrades, through its weekly Veterans Legal Advice Clinic. In recent years, the nonprofit organization also began providing extended representation to veterans by pairing them with pro bono practitioners who can handle their entire cases.
But SALSA wanted to further expand its veterans' benefits assistance since it's such a specialized field and veterans often struggle with the complex application process, says Sarah Dingivan, the organization's executive director. For example, for disability benefits, they are asked to prove their medical issue was either caused or aggravated by their military service.
"You need this knowledge about whether anyone else has already filed for this sort of claim and what evidence was required, and it's so conflict-specific because the types of injuries are very different," Dingivan says. "A lot of veterans try to apply and just get denied and think that's their last option. But there are a lot of appeal opportunities, and we want to empower veterans to not give up."
SALSA recently hired a staff attorney to spearhead the development of its new veterans benefits clinic, which will be housed at St. Mary's University School of Law in San Antonio. Veterans who come to the organization with questions about their benefits will be directed to the program and assisted by staff, pro bono legal professionals and law students.
"It's a really wonderful partnership that we had waiting in the wings, and we just needed enough money to get it off the ground," Dingivan says. "So the ABA grant is allowing this wonderful idea we had to come to fruition."
SALSA has started taking its first clients and will launch its formal program in January.
Metroplex Military Charitable Trust is bringing clinics to the community
The Metroplex Military Charitable Trust, a nonprofit organization based in Dallas that supports military personnel and related charities and volunteer groups, received $40,000 from the ABA Military and Veterans Legal Center.
The grant provides funding to Metroplex Veterans Legal Services, one of its projects that has provided single-issue pro bono legal clinics to veterans throughout Texas since 2013. Joan Gillham, its founder and director, assisted veterans with disability benefits but realized there weren't many resources to help them remove legal obstacles to employment, such as outstanding traffic tickets or unpaid child support.
"There were a lot of barriers," Gillham says. "The local resources are exclusive to certain counties or certain jurisdictions. Then the next barrier is income, because if a veteran is 100% disabled and single, they are going to be 'over income' for the majority of the other programs.
"So there's a [large number] of individuals who can't afford or access an attorney."
MVLS partnered with the Veterans Resource Center in Dallas to host its first traffic ticket clinic. The nonprofit has since worked with law firms and companies to host dozens of different mobile legal clinics in Houston and other cities as well as in less-populated areas, such as Killeen and McAllen. Prior to the COVID-19 pandemic, it offered online registration to clients and also hosted virtual clinics to connect attorneys in Dallas with veterans in the state's remote areas.
Gillham says the ABA's grant will help MVLS continue to provide its services and expand into new locations such as El Paso. On Nov. 9, it hosted a virtual clinic for retired veterans in El Paso who could be eligible for combat-related special compensation.
"Because we broke the barrier on virtual clinics before COVID, now we're expanding into even more options and looking at how we can continue to grow them and do things differently," Gillham says.
Houston Volunteer Lawyers is reinventing outreach to veterans
A September meet-and-greet was co-hosted by the Houston Bar Association Military and Veterans Committee, Houston Young Lawyers Association, South Texas College of Law Houston and Houston Volunteer Lawyers to recruit attorneys for pro bono legal services.
Houston Volunteer Lawyers will use its $20,000 grant to overhaul its outreach model because of changes related to COVID-19.
As part of its Veterans Legal Initiative, which has served more than 22,000 individuals since 2008, the nonprofit organization hosted weekly legal clinics at the Michael E. DeBakey VA Medical Center in Houston. It also connected with veterans who needed help with discharge upgrades, disability compensation and other legal issues at the hospital's outpatient facilities each month.
"That high volume of veterans always flooding our door was definitely interrupted during COVID," says Anne Chandler, the executive director of HVL, the pro bono legal aid arm of the Houston Bar Association. "While we are back at one of the biggest veteran hospitals in the nation, the funds will help us remarket and figure out a nonhospital entry approach to identifying and serving veterans with a high need for legal services."
HVL is partnering with the South Texas College of Law Houston and Houston Young Lawyers Association to find students and new attorneys who are veterans or hope to serve veterans. Those who want to get involved will be assigned a mentor from HVL or the HBA and get the opportunity to provide advice and counsel or extended representation.
Law students and young lawyers will help HVL improve its social media presence and work with the new HBA Military and Veterans Committee to spread the word about its services, Chandler says. They hosted a joint recruitment event on Sept. 9 at a local brewery.
"While we have traditionally asked volunteer attorneys to give us your sweat and blood, take this case and help us, it's new that we've asked a committee to work with us on outreach," Chandler says.
The ABA's grant will also help HVL fund a pilot case transfer system using existing technology shared with the law school as well as a paid internship for a student in the spring or summer.
For more information, visit the ABA Veterans Legal Assistance Grant website.
https://www.abajournal.com/web/article/aba-grants-help-legal-services-providers-reach-more-veterans-in-texas